The named of the FPC copper weight
The copper weight of the flexible printed circuit board also named the copper thickness.
Most of flex PCB factory workers prefer to use the copper thickness of flex PCB board.
But it's not true for design or flex PCB manufacturer engineers, all those guys use the copper weight for a flex PCB manufacture process.
So if you want to communicate with a purchase or flex PCB manufacturers line worker, you can use the copper thickness.
And when you ask some professional question, the copper weight is recommended.
The copper weight is important for flex PCB
Flex PCB board widely application like smart phones.
Those application require Flex PCB have good performance.
Not only meet the requirement of electrical, but also have good mechanical bend requirements.
This means select a good FPC copper weight need very carefully.
Rich flex PCB design experts told Emma that the copper weight design is the most important factor.
It's must design stiffest and most critical component to flex PCB board.
How to design copper weight of flex PCB?
To discuss copper weight requirements, there were some difficulties.
Because each company has own flex PCB design rule, and even difference products also need design difference FPC copper weight.
But there was one main rule during flex PCB board copper weigh design process.
Most flex PCB experts recommended design the thinnest copper weight in the first version of flex PCB design case.
And this thinnest FPC copper thickness must meet the proper electrical requirements.
Most important is that meet flexibility and reliable performance of flex PCB board.
FPC base copper weight design reference
Emma have asked our FPC experts to list FPC base copper design reference.
Below Base Copper list from 4MCPCB
0.33 oz. – 0.00046″ (0.012mm) ED Copper
0.5 oz. – 0.0007″ (0.018mm) RA Copper 1 oz. – 0.0014″ (0.036mm) RA Copper 2 oz. – 0.0028″ (0.071mm) RA Copper
RA = Rolled Annealed
ED = Electro-Deposited
½ OZ and 1 OZ are the most common FPC copper weight
½ OZ FPC copper weight and 1 OZ FPC copper weight use widely.
Most smart devices are required those two copper weights flex PCB board.
Due to those two or thinner copper weight can easily meet flexibility and electronic requirements.
2 OZ FPC copper weight uses special area
But sometimes there were some special requirements need 2 OZ copper weight FPC.
To handle this special FPC copper weight, decrease the flexibility need for the particular application.
One difficulty of 2 OZ or greater copper weights is that not every flex factory can produce.
This means you should speed more time to find a right Flex PCB supplier.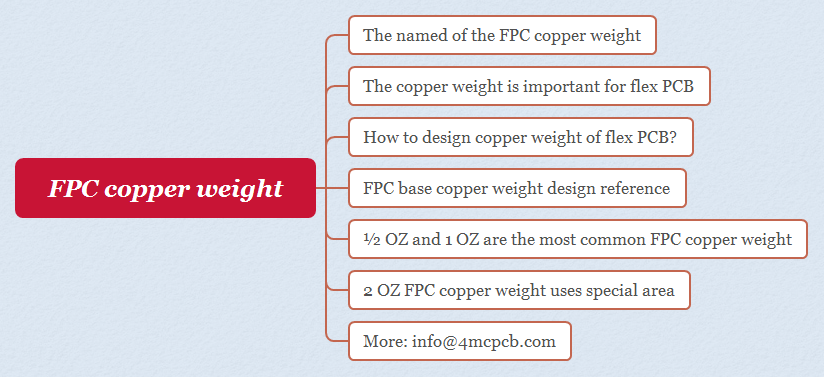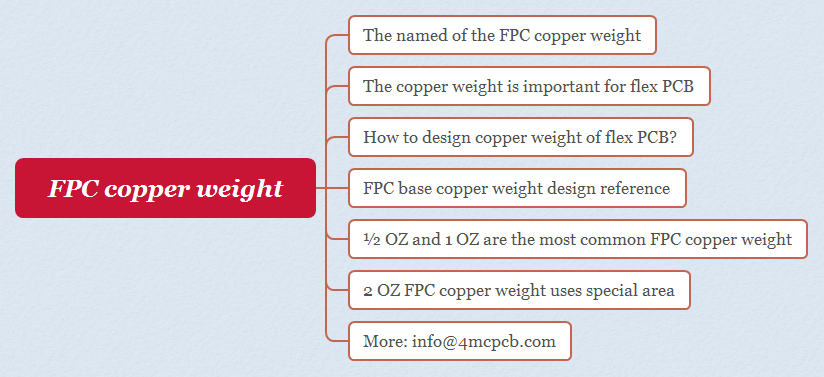 Others also read those articles about PCB Purchase: