Why we discuss the blind Via?
There were some friends ask blind Via PCB questions.
Most of them from conventional PCB engineers, don't know much technology about high density printed circuit board, also named HDI PCB.
So, blind Vias realted to place HDI PCB order .
Then 4MCPCB want to introduce more kinds of PCB board technology.
What is the definition of the blind Via?
If you search on Google, most result as below:
Blind Via is used to connect one outer layer with at least one inner layer.
In Emma's word, blind Via is special connected inner circuit layers in our circuit layer.
This means that blind Via don't throughout the all circuit layers.
Why blind Via PCB manufacturing so difficult?
If you want to order blind Via PCB, or professional named HDI PCB, you must ask some big PCB manufacturers.
Because most of small rigid PCB companies cannot produce.
Even cannot design a right blind Via PCB Gerber file.
4MCPCB HDI PCB experts told Emma, all the blind vials should be defined as a separate drill file.
And after all manufacturing process should consider the blind Via affect.
The blind Via designers consider three factors
The aspect ratio of blind Via must be less 1.
The ratio of hole depth to drill diameter, named the aspect ratio of blind Via.
So during the blind Via design process, the smallest hole determines its depth.
Then the max hole distance between the outer layer and the corresponding inner layers.
Above all are the top three factors of blind Via design.
The blind was within pads introduce
The blind was within pads were special type one.
There were some different with above.
First of all, what is the definition of blind Via within pads?
In some special requirement, place your blind bias within pads (via-in-pad).
Two diameters options of blind Via within pods:
Ø ≤ 100µm – copper filled (galvanic)
Ø ≤ 400µm – filled with non-conductive paste and overplayed
Add four factors of blind Via within the pads
Production according to IPC 4761 Type VII
Aspect Ratio 1:1
See also Via-in Pad: Via Filling.
Whether laser or mechanically drilled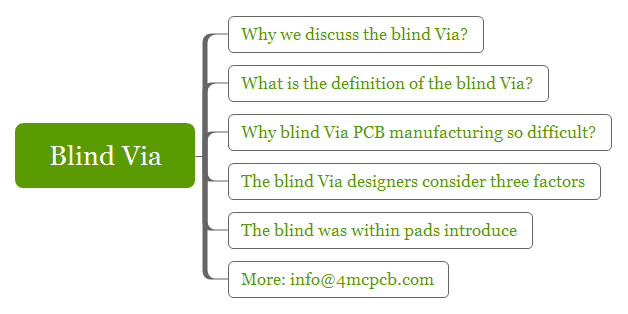 4MCPCB experts introduce Blind and Buried Vias